How Thick Should Stable Mats Be?
Purchasing stable mats can be one of the best investments that you make on your farm. Solid rubber mats offer high-traction, antifatigue flooring which makes a major difference to the life of your animals.
By laying down a stable rubber matting, large animals like cows and horses can engage in more comfort behaviours, like resting, eating, and cleaning. Not only that, but stable mats with an anti slip surface offer excellent traction, allowing your animals to get up, change directions, and lay down in a much safer way.
In this article, we're going to explore
How thick should stable mats be for different animals?

The best horse stall mats.
The best cow stable mats.
The best mats to use for smaller animals like goats, sheep, and calves.
Tips and tricks to purchase the best mats for your needs.
How thick should stable mats be?
Not all mats are created the same, and some mats may be more appropriate to use in certain situations than others. For example, thicker mats are best to be used with larger animals, like in horse stalls, whilst thinner mats work well as anti slip flooring for walkways, garages, and shops, or for smaller animals.
Let's dive into the different thicknesses for mats to discover which mats will best fit your needs:
The best horse stall mats
There are a tonne of options available to you if you're looking for mats for normal equestrian use. The benefit of stall mats is that they allow you to save money on bedding costs, as you need less bedding to keep your animals comfortable.
Rubber mats are perfect to use for horse stalls, and they range in thicknesses between 10mm to 30mm. The perfect mat thickness falls between 15mm and 20mm, as it gives you the most durability for the price.
Let's look at some mats that fit this range and examine the best ones to purchase.
1.1M X 1.1M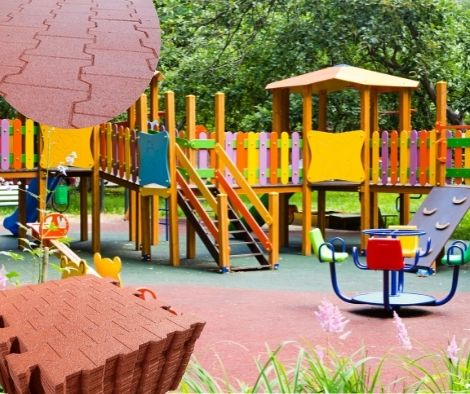 These dog bone rubber mats are stylish, but also incredibly durable. At 20mm thick, these are perfect to use inside a horse stall, as it can offer both superior traction and insulation during cold winter months. They also feature a nonporous, waterproof barrier which prevents the buildup of bacteria within the mats.
They're easy to use, just snap them into place using interlocking connector pieces.
One major drawback of these mats is that they're rather thick to cut through and heavy to move. This may be an issue during installation if you don't have a jigsaw to use, as a Stanley knife may have difficulty cutting through it.
Benefits
Thick, heavy duty mats
Stylish, aesthetically pleasing look
Tight fit interlocking mats
Drawbacks
Heavier mats
Harder to install
1.83M (6FT) X 1.22M (4FT)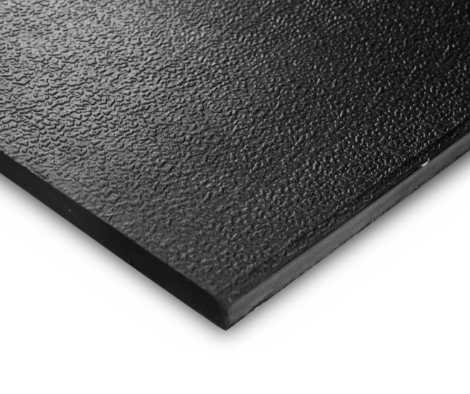 The amoebic rubber stable mats offer a unique amoebic non slip surface to any horse stall, walkway, or parlour pit. Each mat is made from solid rubber, which is non porous and non absorbant, making them easy to clean, resistant to bacteria, and great to use in wash bays. This product offers superior durability and comfort for your horses.
Benefits
Anti slip amoebic top surface
Instantly transform cold concrete floors into comfortable places for horses
Drawbacks
The best cow stable mats
Cows are a unique animal which thrive when they have the adequate amount of rest and leisure time available. The most productive cows are the happiest cows, the ones that have been given adequate time to sleep, eat, and perform hygiene behaviours.
Here are the top cow stable mats:
1.22M X 0.91M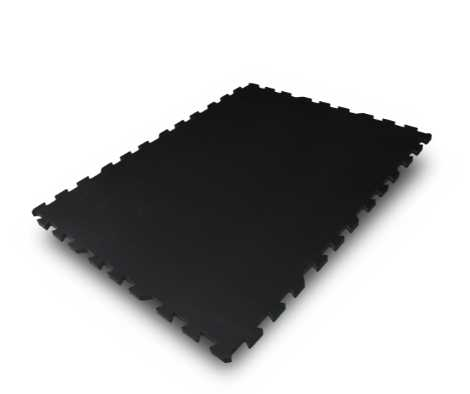 This mat is an ultra high density, heavy-duty EVA stable mat which can put up with the regular wear and tear from large animals walking on it. Of all the foam mats offered on Stable Mats Ireland, these are the only ones suited for cows stalls. EVA foam offers the best cushioning for large animals, as it offers just the right hardness and compressibility to cradle cows, whilst also not ripping and tearing under the force of the hooves.
Benefits
Great cushioning ability
High-quality mat
Easy to connect interlocking edges which prevent curling
Lightweight
Drawbacks
May not hold up as well as rubber
0.91M (3FT) X 1.22M (4FT)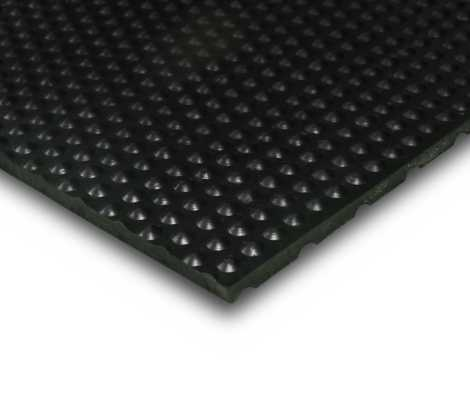 Offering a raised bubble top, the stud dot rubber stable mats provide the best traction of any mats available on the market. Each stud dot sits 3 mm from the base, allowing for increased traction when compared to other rubber mats. This mat is especially useful for cow stalls because the increased traction allows cows to lift themselves up and lay down easier. If you own any older cows or ones that have suffered from injury, these are great to help them gain confidence when walking and changing directions.
Benefits
Greater traction
Deep drainage furrows allow water to flow away from the centre of the mats
Drawbacks
Heavy weight
Harder to sweep dirt and debris away
The best stable mats for smaller animals
For smaller animals, you won't need as thick of a mat to cushion heavy weights. Instead, a 12 mm mat works just fine for animals under 200 kg.
Let's look at some of the best mats available for small animals like goats, sheep, and calfs:
4FT X 3FT HALF SIZE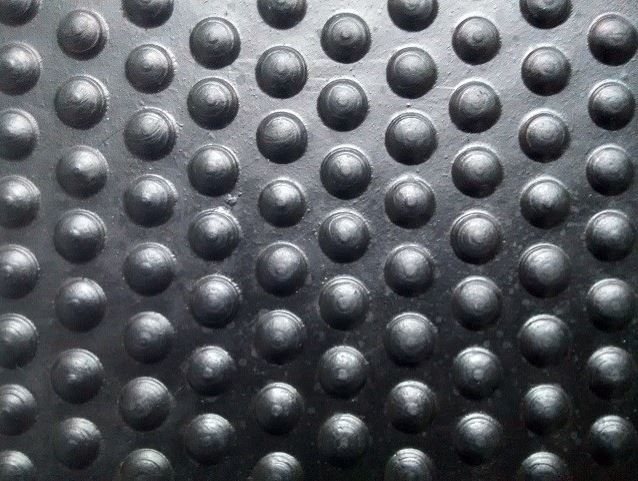 These mats are a bestseller on Stable Mats Ireland because they are significantly lighter and easier to install than thicker, larger mats. They offer superior traction because of the raised stud dots, but they're also thin and easily portable. These are great to use on a walkway in the winter, as they prevents snow and ice from building up and creating a tripping hazard.
Benefits
Lightweight and easily portable
Raised stud dots for greater traction
Drawbacks
Not suitable for larger animals
10MM RUBBER BLUE FLECK GYM JIGSAW MATS WEIGHT TRAINING
1M X 1M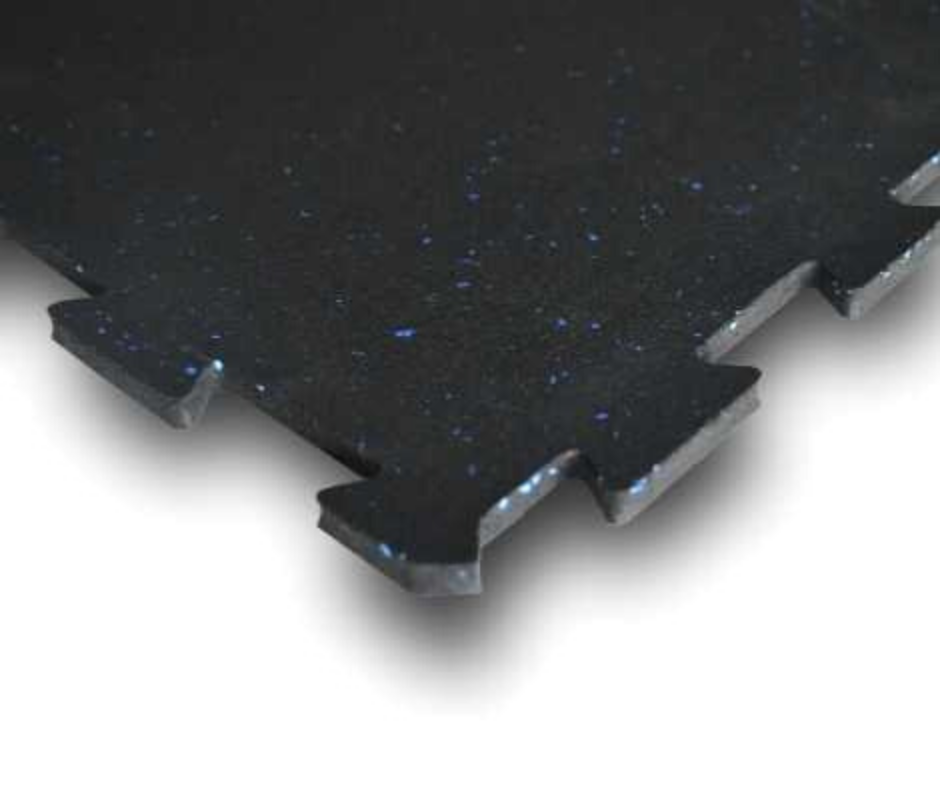 These mats are great to use both for stables for smaller animals and for workshops, gyms, and walkways. At 10 mm thick, these are one of the thinnest mats available, and at 1 m x 1 m in size they are easy to carry and move. This comes in handy for areas where you need to tear down and set up, like for trade shows, garage gyms, or shops.
Benefits
Easy to move and clean
Stylish blue fleck design
Drawbacks
thin and unable to hold up to extreme stresses caused by large animals
Tips to help you purchase the best mats for your needs
It really depends on your individual needs what type of stable mats you use. For example, if your barn is full of large animals, then thicker rubber mats are probably what you need. Though, the high density cow comfort EVA foam mats make great stable bedding options, as well.
Here are three tips to keep in mind as you purchase stable matting:
1. Measure
The first thing that you can do before ordering stable mats is to measure the area that you would like to outfit with antifatigue flooring. When creating a bespoke mat plan for your barn, take into account the overall area, as this will affect how many mats you'll need to purchase.
2. Purchase a variety of mats
Another helpful tip is to consider purchasing different types of mats for different areas in your barn. For example, you may want to use EVA foam mats for a cow stall, but for walkways leading to the milking parlour, purchase some stud dot rubber mats to aid in traction. High-traffic areas inevitably have more dirt, mud, water, and debris, and therefore you will need higher traction flooring to prevent against slips and trips.
Also, consider purchasing lighter duty EVA foam mats for parlour pits where workers will be standing. These parlour pit mats are specifically designed for anti fatigue flooring, and are nonporous, anti-microbial, and slip resistant.
By diversifying the types of mats that you purchase, you will be able to fully outfit your barn for a significantly lower price than buying a single type of mat.
3. Contact support for help
All this information about rubber and foam mats can become confusing, and it might be best to talk to an expert who can guide you in purchasing stall mats. At Stable Mats Ireland, the customer service staff are personable and knowledgeable, able to handle any question that you throw at them. You can reach out to them by heading over to our contact page, or leave a message on the handy chat feature on the bottom right corner of the screen.
Conclusion
Knowing the right thickness of mat that you need to purchase will give you a leg up in outfitting your gym with the right mat to provide the perfect level of comfort and traction for your animals. Overall, you'll find the best prices around for rubber and foam mats at Stable Mats Ireland. Scroll through all the rubber stall mats and EVA stable mats on the site, and you will find something that'll fit your needs.
Author: David Van Kooten