Rubber playground tile flooring material is a crucial element in designing children's play areas. Safety, durability, and ease of maintenance are vital factors to consider. Over the years, porous crumbed rubber has become a popular choice for these spaces. This material has its unique advantages and drawbacks, as does its installation. In this article, we'll delve deep into the pros and cons of porous crumbed rubber floors, comparing different installation methods like small square tiles with doweling, large jigsaw tiles, and poured rubber.
---
Why Porous Crumbed Rubber?
Porous crumbed rubber tiles are made from recycled rubber, primarily from used car and truck tires. These tires are shredded, cleaned, and processed to produce granulated or 'crumbed' rubber, which is then used to create a variety of flooring products.
---
1. Small Square Tiles Fitted Together with Doweling
Installation Guide:
Begin with a clean, level surface. Remove any debris or sharp objects.
Mark out your starting point and align your tiles accordingly.
As you lay down the tiles, ensure that the holes for the dowels align with the neighboring tile.
Insert dowels to connect adjacent tiles securely.
Cut tiles, if necessary, to fit the perimeter or to accommodate any play equipment or structures.
Once all tiles are in place, inspect the surface to ensure that there are no gaps or protruding dowels.
Pros:
Precision Fit: Dowels ensure that tiles fit securely and reduce the chances of them separating over time.
Modularity: Easy to replace damaged tiles without overhauling the entire floor.
Design Flexibility: Allows for patterns or color changes.
Cons:
Time-Consuming Installation: Fitting each tile with dowels can be labor-intensive.
Uneven Wear: Individual tiles might show wear and tear differently, leading to potential inconsistencies in appearance over time.
---
2. Larger 15mm thick 1.1m x 1.1m Jigsaw Tiles
Installation Guide:
Begin with a clean, level base.
Starting from a corner, lay down the first tile and ensure it's correctly positioned.
The tiles should fit together like jigsaw puzzles. Press tiles together firmly, ensuring a snug fit.
Continue the process, working your way outwards, ensuring no gaps between tiles.
Cut tiles at the edges, if needed, to ensure a perfect fit.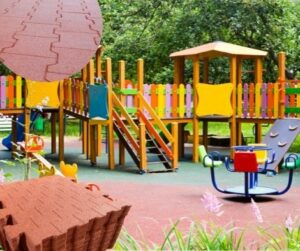 Pros:
Quick Installation: The large size of the tiles covers areas faster, reducing installation time.
Seamless Look: With fewer seams, the play area has a more consistent appearance.
Durability: These tiles are thick, offering good cushioning and longevity.
Cons:
Less Flexibility in Design: Fewer opportunities for patterns or color variances compared to smaller tiles.
---
3. Poured Rubber
Installation Guide:
Begin with a clean, level, and dry substrate.
Mix the rubber granules with a binding agent according to the manufacturer's instructions.
Pour the mixture onto the surface, spreading it evenly.
Use trowels to smooth out the surface and ensure an even depth.
Allow the poured rubber to cure for the recommended time, which can vary based on environmental conditions and product specifications.
Pros:
Seamless Surface: Offers a uniform look without visible joints or seams.
Custom Thickness: Can be poured to various depths, depending on the desired cushioning or safety level.
Highly Durable: Resistant to wear and tear, making it a long-lasting solution.
Cons:
Installation Complexity: Requires skilled professionals to ensure a smooth, even surface.
Longer Cure Time: The area might be out of use for a while until the rubber fully sets.
---
Pros of Porous Crumbed Rubber Flooring:
Safety: Its cushioning effect reduces the risk of injury from falls.
Eco-Friendly: Made from recycled rubber, contributing to environmental sustainability.
Water Permeability: Porosity ensures quick drying, reducing puddles and slip hazards.
Durability: Resistant to wear and tear, especially in high-traffic areas.
Easy Maintenance: Can be easily cleaned with water and mild detergents.
Cons:
Initial Cost: Higher upfront costs compared to some other flooring options.
Heat Absorption: Can become hot in direct sunlight, potentially causing discomfort.
Odor: New installations might emit a noticeable rubber odor, which usually dissipates over time.
---
In Conclusion
Choosing the right flooring for children's play areas involves considering safety, aesthetics, budget, and maintenance requirements. Porous crumbed rubber, with its eco-friendliness and cushioning properties, presents a compelling case. However, the choice between tiles (whether dowelled or jigsaw) and poured rubber depends on individual needs and preferences. Always consult with a flooring specialist to understand the best solution for your specific requirements.